Guest blogging may not be as easy as some make it out to be. But the rewards are truly worth the trouble, especially in terms of your SEO performance. No question about it: You should make guest posting a part of your online marketing strategy.
If you're looking to become a guest blogger, you'll appreciate this guide on how to write a guest post.
Let's get started.
Step 1: Find Guest Blogging Opportunities
There are plenty of ways to find blogs that accept guest posts. But you have to keep in mind that you have to work with sites that have a high domain authority (DA) to get the most SEO benefits.
You also want to make sure that you find blogs that are in your niche. You don't want to get backlinks from unrelated domains.
Avoid websites that are in the gambling, drugs, or adult entertainment industries.
So how do you find the right guest blogging opportunities?
The simplest way is through a Google search. Using a combination of keywords, you'll be able to track down blogs that are open to accepting guest posts. For example, consider using this query:
[Your niche] "write for us"
Replace [Your niche] with your category (gardening, carpentry, etc.) and leave "write for us" as is (including the quotes). This will likely bring up a list of related blogs with a Write for Us page, an indication that they accept guest posts.
You can also use social media to find blogs by entering keywords like "guest post" in the search bar. If you know who your competitors are, some apps will show you who's been linking to their site. You can go over the list and see which of those are from guest blogs.
Step 2: Research a Guest Post Idea
You can write the full article at this point. But some will argue that it's better to wait for a blogger to respond to you first since they might have another topic in mind. That means you'd have spent a lot of time writing a post you'd end up ditching anyway.
But at the very least, you should have a couple of guest post ideas to pitch.
Go over the blogs you plan to reach out to and see what type of posts they like to publish. Every blog is different so make sure that you take notes. Having a spreadsheet will help.
And while you're at it, you should also take some time to know the bloggers themselves. What are they like? Get a feel for their sense of humor. Go over their accomplishments. See how they interact with their community. All of these will come in handy when it's time to send them your pitches.
Interacting with your target bloggers is also a good thing. This will help you get noticed even before you start writing guest posts and should improve your chances of getting accepted.
Step 3: Pitch and Submit Guest Posts
Before sending your pitch, you'll want to go over the guest posting guidelines that a blog owner might have on his or her website. If there's one, it'll probably have requirements that you'll have to meet. And there will probably be instructions on how to contact them.
For example, most will provide an email address while other bloggers might leave a contact form for you to fill out.
As for the pitches themselves, you want to be as straightforward as possible. No need to make your pitches longer than they have to.
At the beginning of the pitch, you should add a short introduction. Follow it up with the purpose of your email. And don't forget to tell the blogger what's in it for them. Toward the end, you can include links to some of your previous work if you have any.
Below is an example of what a guest post topic pitch could be like. Use it as an inspiration for your own blog pitch. You'd have to tweak this pitch depending on what type of guest blog posts you plan on writing.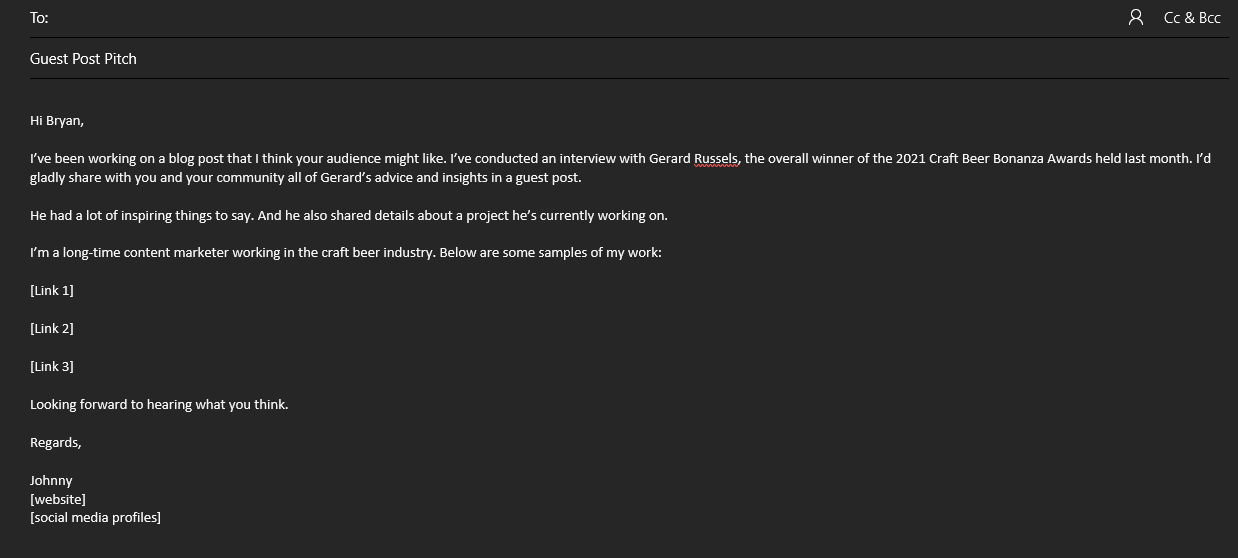 If you did your research, you can include tidbits that get the blogger to like you better. For example, you can mention an article that the blogger wrote and how much you liked it.
You shouldn't be aggressive with your pitch. And if the blogger doesn't reply, you shouldn't take it personally. You can send a follow-up email but if that still doesn't work, you should move on to other guest post opportunities.
If you and the blogger come to terms, that's when you can submit your guest post. Only submit a high-quality guest post. And make sure it will resonate with the blogger's target audience. A great guest post needs to be fresh. So don't just rehash older content from other blog owners.
At the very least, it should be the same quality as the articles on your own website.
Step 4: Help Promote the Guest Post
Once the site owner approves the pitch, start writing it. Ideally, you should know the topic like the back of your hand so creating high-quality content for your guest blog shouldn't be a problem. However, you can always buy guest blog posts instead that you can submit to your target site.
However, the work doesn't stop after you write guest posts. If published, the post should be promoted through social media posts and other platforms. You need to help the blogger drive more traffic to the article.
You'd want to do this for a couple of reasons. The more traffic the post gets, the more likely the blogger would want to work with you again. Also, it increases the chances of people discovering who you are and what products you have to offer.
Having m0re people access the guest post is great for search engine optimization as well. How much traffic your guest post gets will all depend on how well you do with promoting it.
Bonus: Finding More Guest Posting Opportunities
Finding successful blogs, handling content marketing tasks, researching bloggers, and working on a guest blogging strategy is tough especially if you're doing it on your own.
And if that seems too complicated for you, then you might want to hire link building agencies who will do the entire process above for you. They also will be responsible for finding bloggers to writing the entire post. You can continue working on your own site and leave everything else to the professionals.