Guest posting—also referred to as guest blogging—is an SEO strategy that yields great results. That's why online marketers still use it to this day. But for those who have never done it before, the process can be overwhelming.
It's not enough that you have a fantastic guest post idea. You should also know how to find guest post opportunities, build relationships with other bloggers, and make a great pitch.
While you can just buy guest post backlinks and not worry about this stuff, you won't be able to identify what makes an effective link from guest blogging from an ineffective one. So, knowing the exact process is beneficial to help you filter out who you should hire to do this for you if you go this route.
In this post, we'll show you the basics of guest posting so that you can try it for yourself.
How Do You Do a Guest Blog Post?
Step 1: Search for Guest Blogging Opportunities
Before you can submit a guest blog post, you'll first have to find blogs to write for. This is an easy process if you have access to a link building tool. A link building tool lets you find bloggers you can work with (along with their contact information) but they can be expensive, especially for startups.
If you don't, then you'll have to do it manually.
The manual process is tedious but ultimately rewarding. And there are different ways you can go about it. But whatever path you choose, what's important is that you document all of the blogs you researched in a spreadsheet for easy reference.
The spreadsheet should contain data such as the name of the blog, the contact person, means of contact, the blog's domain authority (DA), and guest post guidelines. You can also leave room for notes. There, you can add information you could use when you reach out to the blogger.
Finding Blogs That Lets You Submit Guest Posts
You can find blogs in your niche that accept posts through a quick Google search. Take your time to find all blogs that are accepting guest posts. But with the right keyword combinations, even an inexperienced business owner will eventually get there.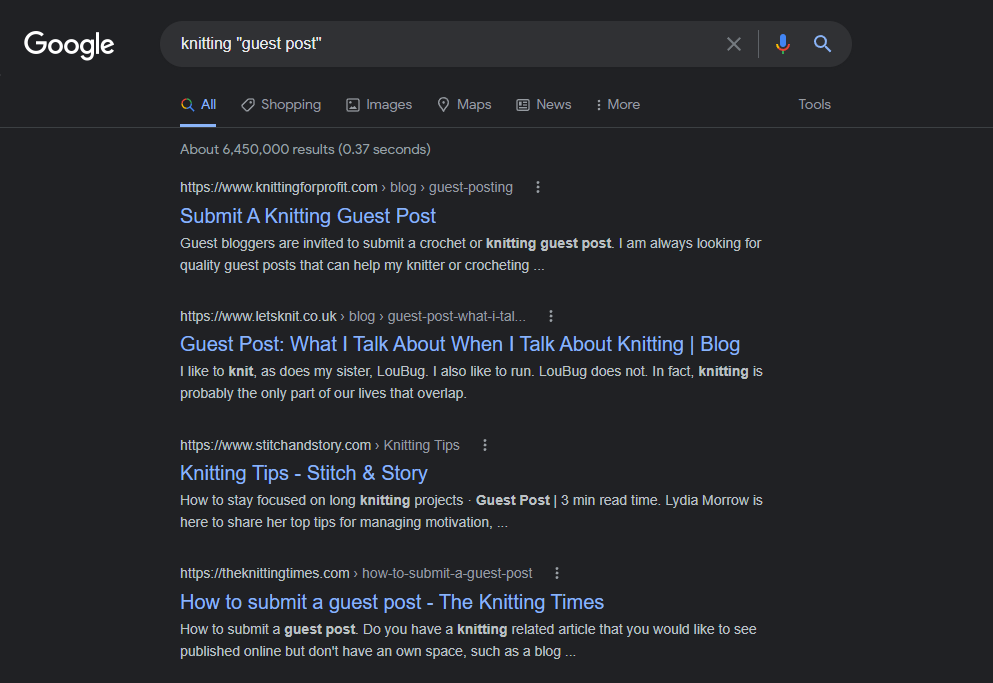 We suggest that you start with your niche followed by "guest post" or "write for us" in quotes. This will help you find other guest posts that are related to your industry that have pages dedicated to guest posting.
Filtering Your Guest Post List So It Makes Sense
Writing guest posts for all the blogs you found is not ideal. Not only will it take too much of your time and resources, but not all of them will achieve the same results. If you're getting backlinks from a website with low DA, it will do little to improve your rankings on Google search.
For those unfamiliar, DA is a metric developed by Moz that scores a site based on its chances of ranking on search engines based on different SEO factors. Ahrefs developed its own version called Domain Rating (DR). You can use either metric.
When you filter your list, you should prioritize high DA/DR blog sites. Getting backlinks from these domains will be better for your SEO.
Step 2: Reach Out to Bloggers
Once you have a list of bloggers to contact, that's when you can start working on your guest blogging pitch. Your pitch should be direct to the point. You don't want to waste the blog owner's time.
Introduce yourself. State what you want. Explain how your guest blog would be beneficial to their audience. And then add links to some of your published guest articles if you have any.
You can also share ideas on what your blog post will be about.
If you've done your research, you should know more about the blogger by this point. If so, personalize your outreach email to include details that would make the blogger like you more. For example, you could include a comment about an article that the blogger recently published.
After you submit your guest post pitch, wait for a few days. If the blogger doesn't respond, send a follow-up email. You don't want to be annoying but you can wait around forever either.
Step 3: Write Your Guest Article
Should a blog owner accept your pitch, that's when you write your article. You must follow the guest posting guidelines. Otherwise, your guest post submission will be rejected. The rules are in place for a reason.
Some marketers make the mistake of submitting low-quality blog posts just because they aren't being published on their websites. That would be a mistake.
When you submit a guest post, you want to deliver quality blogs that the blogger's target audience would appreciate. You also want to make sure that your guest blog post's tone would match all of the other entries in the blog.
If you're planning to write guest posts for more than one blogger at a time, you might want to dedicate more writers to your guest blogging strategy. This is to cope with the demand for fresh content.
If you don't have the manpower to spare, you can hire a freelance writer to write content on your behalf. You can use services like Fiverr to find blog writers for hire. Just note that you will need to set aside a budget for freelancers. Prices vary depending on experience.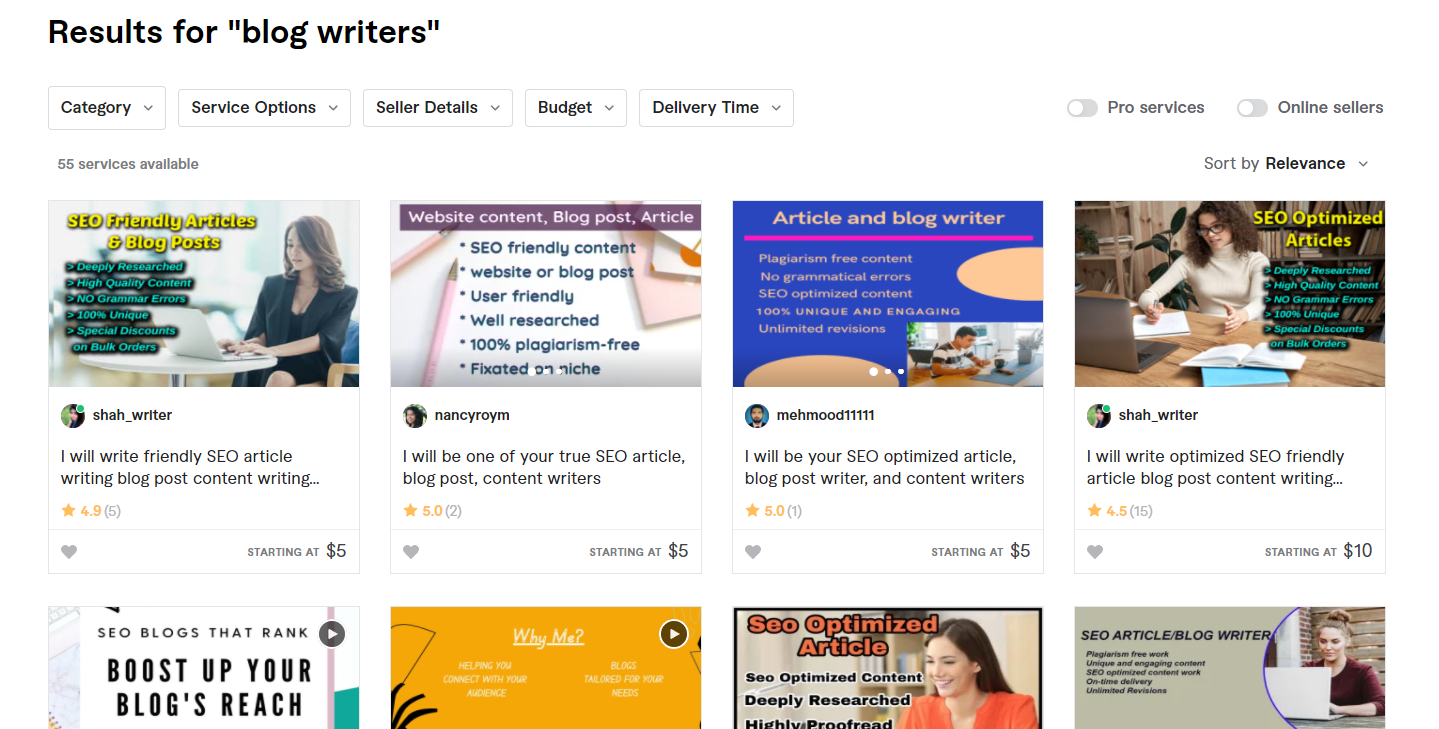 Step 4: Promote Your Guest Blog Posts
The guest blogging process does not stop after a post gets published. Most guest bloggers go out of their way to promote their articles on other sites and social media platforms.
Why go through all this effort?
If the guest posts do well, there's a chance that bloggers would want to work with you again. Also, guest blogs provide exposure.
The more people hear about you, the better your chances of being viewed as an industry leader (especially if your author bio stands out). This might lead to more guest posting opportunities on other blogs down the line.
In addition, your backlinks will get more clicks if you promote your published guest posts. This will determine how much traffic your own site gets.
What If Other People Guest Posted for You?
Being a guest blogger isn't for everyone. It can be disruptive to your online business because you'd have to dedicate a lot of time and resources to get your strategy off the ground. You'd have to get in touch with many bloggers (not many blog owners reply, by the way).
And after all your struggles, your link building strategies might end up producing just one backlink.
If you see the value in guest blogging but simply don't have the time to do it yourself, you might want to buy guest post links instead. In some cases, it's more affordable than doing it yourself since you won't have to pay for link building tools and hire people to write content for you.